Come along for a tasty meal, every Thursday from 11am – 2pm, at Forgewood Community Centre, Motherwell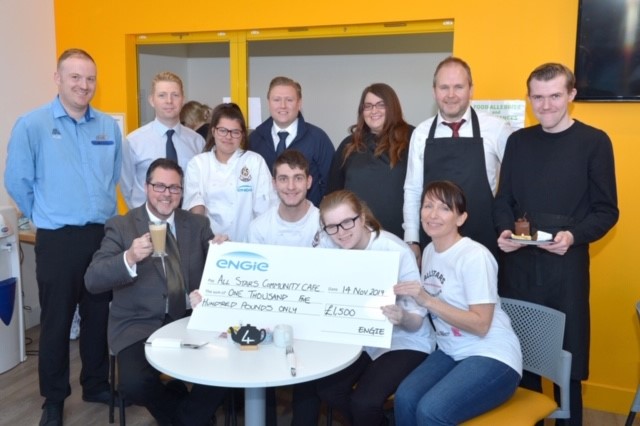 Firpark secondary school have started an exciting new catering venture with the opening of the 'All Stars' community café situated in Forgewood, Motherwell.
The café, is staffed by senior pupils who will serve up a tasty lunch between 11am and 2pm, every Thursday, offering mouthwatering choices including homemade soup, panini's, toasties, speciality coffees and cakes.
This new cafe is operated in partnership with the Supported Enterprise Service, Forgewood Community Centre, Skills Development Scotland, Aldi (through the charity Neighbourly) and Engie, who presented a cheque for £1,500.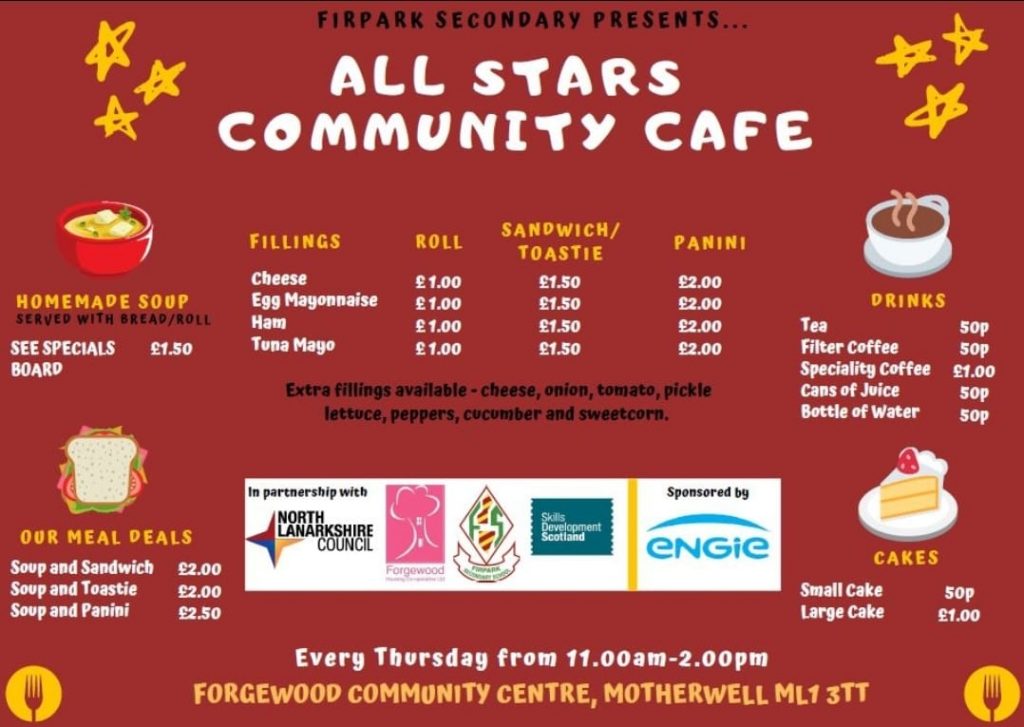 John Morley, Head Teacher said: "Firpark Secondary School, working alongside Supported Enterprise, came up with an idea of opening a community café which would benefit both the local community and provide real employment experience for Firpark Secondary pupils.
"Following considerable planning and partnership working we're really pleased to see our vision become a reality. This is a fantastic opportunity for our pupils to gain employability skills in a real employment situation. Having supported employment as a partner ensures that appropriate guidance and support is accessible and immediate for the pupils."
Donella Duff, NLC Supported Enterprise Manager, added: "Our job coaches work closely with the senior students at additional support need schools throughout the area to support them in their transition from school into employment. This is an excellent example of how partners and the local community can work together to help provide opportunities for our young people."
The café is a great opportunity for local people to catch up with friends while helping support the young people in their catering venture. The café offers fresh produce, excellent table service and fabulous home cooked food. Please come along and give it a try, every Thursday from 11am – 2pm, at Forgewood Community Centre, Motherwell, ML1 3TT.
"ENGIE are delighted to be sponsoring North Lanarkshire Council's All Star Community Café. Community investment is something we are passionate about as a company and we're excited to be working with All Star Community Café and their chosen partners to support the running of this community project," said, Brian Pettigrew, ENGIE Regional Managing Director.