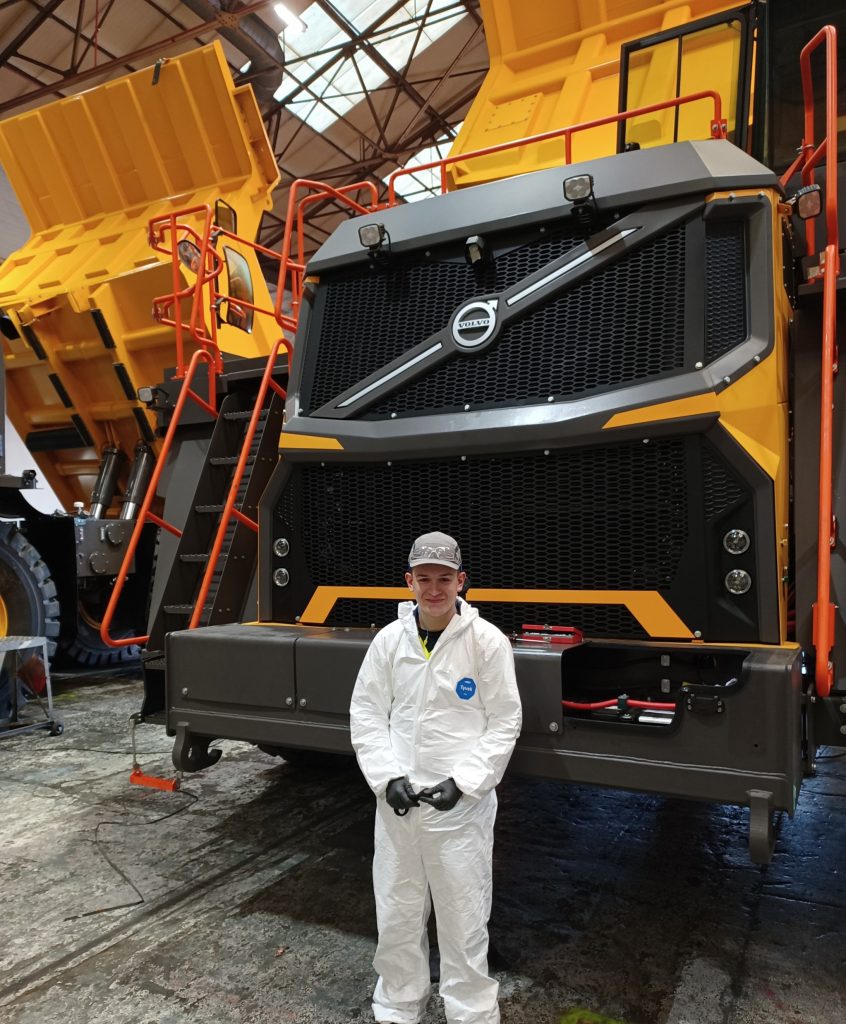 It's already been a year to remember for Rhys Dingwall. 
He's celebrating a double success after securing permanent employment following a No Limits work placement with Volvo and being voted 'Young Person of the Year' at a top industry awards ceremony.
Rhys, from Coatbridge, began his journey into work on a No Limits placement and training programme with Volvo, Motherwell, last summer. The programme is designed for young people with additional support needs, and trainees are paid and learn the skills needed to succeed in the world of work, with each trainee benefitting from the support of a job coach from our Supported Enterprise Service.
Volvo has now offered Rhys an opportunity to become a permanent worker due to his fantastic work ethic and the amazing progress he's made since starting as a No Limits trainee.
"Before leaving high school, we worked with Rhys to find a work placement that suited his skills and interests," explained Donella Duff, Supported Enterprise Manager. "One of the key aspects of our service is matching the right person to the right job. And, on profiling Rhys, it was clear he had a real interest in mechanics and cars. Our employment co-ordinator arranged a job taster with Volvo who was keen to support his journey, and after a very positive experience Rhys began a work placement.
"It's always so pleasing to see our young people succeed in employment. It's a real team effort and thanks to the local businesses that sign up to support our service, the expertise of our employment co-ordinator and job coaches and the hard work and skills of our young people. Congratulations Rhys, we're delighted for you!"
And surely the icing on the cake was Rhys being named Young Person of the Year at the CeeD (Centre for Engineering, Education and Development) awards, a recognised national body supporting a range of industry sectors in Scotland. Rhys attended the event after being shortlisted and was shocked and excited to pick up his award surrounded by the team from Volvo.
Rhys's mum, Jennifer, added: "He's come a long way since leaving school and starting his work placement with his confidence growing. None of this would have been possible without the council's No limits work programme and its dedicated team of job coaches and the amazing companies like Volvo for creating opportunities for hard working young people. We are so proud of Rhys and we think he will have a great future with Volvo."
Karen Anne Duffy, HSE & Sustainability Manager at Volvo said: "We believe that people can change the world, which is why we initially partnered with North Lanarkshire Council's Supported Employment Scheme 5 years ago, and why we were keen to get involved with the No Limits Programme as well. We knew it would allow us and North Lanarkshire Council to continue to advocate and support these programmes using Rhys' example. The fact that Rhys won this award, reinforces our belief that there truly are no limits to what we are capable of, and we would encourage more organisations to partner with the council and give people a chance at employment, you won't be disappointed!"
Our service is always looking for more businesses to sign up and support young people across North Lanarkshire's communities in finding employment.



Contact Gail McKee, Supported Employment Co-ordinator, mckeeg@northlan.gov.uk to find out more and be a part of this exciting programme.